On May 5th, Saul "Canelo" Alvarez will be taking on living legend "Sugar" Shane Mosley in defense of his WBC light middleweight title at the MGM Grand in Las Vegas, Nevada as the co-featured fight on the pay per view card headlined by Floyd Mayweather Jr. vs Miguel Cotto.The undefeated Alvarez adds a highly favored Mexican presence to the Cinco de Mayo pay per view telecast. Shane Mosley is his biggest named opponent to date especially since his last three fights were Ryan Rhodes, Alfonso Gomez and Kermit Cintron. These names don't ring a bell to casual boxing fans and although they are great fighters, they do not come close to the calibre of Manny Pacquiao or Mayweather Jr – two of Mosley's last opponents. Therefore it is quite safe to conclude that this fight is a huge one for Saul Alvarez and is a perfect opportunity for the hungry fighter to make his mark in the world of boxing.
Saul Alvarez vs. Shane Mosley Pick
Saul Alvarez vs. Shane Mosley Fight Preview and Pick to Win
When:
May 5, 2012
Where:
MGM Grand in Las Vegas, Nevada
TV:
PPV at 9:00 p.m. EST
Weight Class:
WBC Junior Middleweight Title: 12 Rounds By Scotty L, Boxing Handicapper, Predictem.com
Saul Alvarez, 39-0-1 (29 KOs), Jalisco, Mexico, WBC Junior Middleweight Champion VS. Shane Mosley, 46-7-1 (39 KOs), Pomona, California
FLOYD "MONEY" MAYWEATHER, MIGUEL COTTO, CANELO ALVAREZ AND SUGAR SHANE MOSLEY
RULERS OF THE RING AND THE STATISTICS TO PROVE IT
Las Vegas, April 30 – Long live the kings of the ring Floyd Mayweather, Miguel Cotto, Canelo Alvarez and Sugar Shane Mosley as they prepare for "Ring Kings: Mayweather vs. Cotto,"the biggest fight of 2012 taking place this Saturday, May 5 at the MGM Grand Garden Arena in Las Vegas, Nev. which will be produced and distributed live by HBO Pay-Per-View®.
In literal form, sugar is a white substance, known to be sweet; while cinnamon is a brown substance, known to have a little spice. When we analyze 'Sugar' Shane Mosley and Saul 'Canelo' Alvarez, while the colors may be a bit backwards, without a doubt, the only gear these two men know is straight forward, as neither has ever been known to fight off the back foot. There lies the intrigue in this fight, and somewhere deep in the contest, there may also lie the unfortunate downfall for one of the two warriors. As we prepare for this classic showdown between the old bull and young pup, we take a look at "Keys to Victory", "Four to Explore", and an "Official Prediction":
SHANE MOSLEY - (KEYS TO VICTORY)
For Shane Mosley, many of the questions raised will be questions answered by the end of the night. At first glance, his age is the major sticking point in the mind of the average fight fan, as few think the Shane Mosley of today is capable of preventing Alvarez from being a ruler come tomorrow. Confidence will be a key component for Mosley, and you truly have to wonder how much he has considering that his last victory came in 2009. Granted, the two men to make Mosley look foolish most recently have practically done that to everyone in their past, but at 41 years old, facing an opponent who was in diapers when his career began certainly can't help! Mosley will need to press the action and keep Alvarez on his back-foot. The great thing about Mosley which is still apparent is that his chin is still made of granite. He can take a punch well, and is known to take a few to land a few of his own. This element will be vital against Alvarez, because few have stood in the pocket toe-to-toe with him that have actually had the power to hurt him like Shane does. Shane has been known to flicker his jab in the past. Against Alvarez, it would be to his best advantage to come out with a true jab, use it effectively, and come over the top with a right hand bomb like he caught Mayweather with. If Floyd was susceptible to that punch, 'Canelo' will be....and there's no guarantee that he'll walk away from it like Mayweather did. Mosley will need to use his strong experience to set many traps and go to the body early to weaken the legs of the young pup. If Mosley takes this approach, without question he can potentially win this fight, perhaps even by late stoppage.
Fight Saul Alvarez -VS- Shane Mosley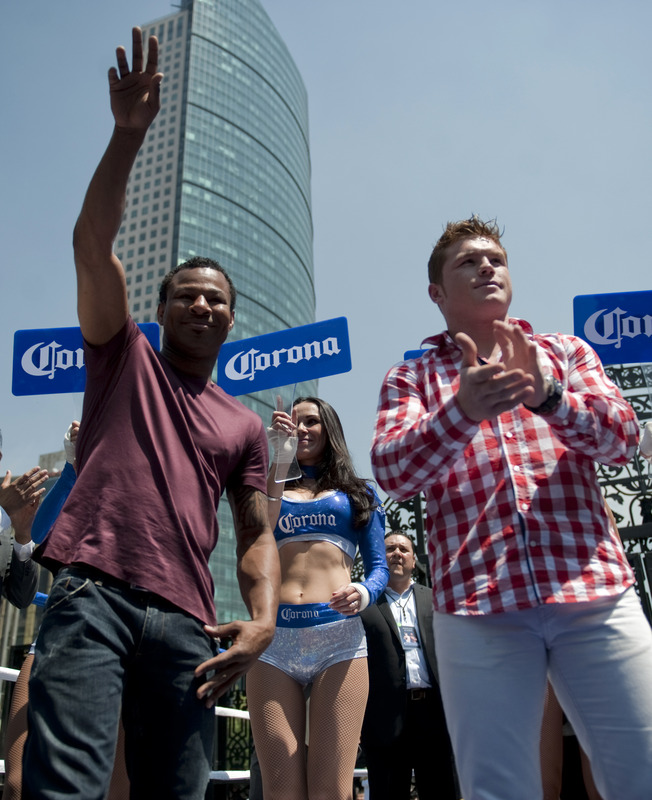 | | |
| --- | --- |
| Boxers | Saul Alvarez [39-0-1, 29] Shane Mosley [46-7-1, 39] |
| Weight division | Super Welterweight (154 lbs) |
| Title | WBC Title, |
| Date | 05 May 2012, Sat |
| Location | USA, Las Vegas, MGM Grand |
| Other fights of this evening | Fight Floyd Mayweather -VS- Miguel Angel Cotto |
News: Fight Saul Alvarez -VS- Shane Mosley
Although Saul Alvarez does not predict that he will knock out Mosley, he promises to deliver his best performance to date. He doesn't mind the age difference and the wealth of experience Mosley has under his belt. Although the Pomona based fighter "Sugar" Shane Mosley is already 40 years old, he shows no signs of throwing in the towel and is eager to prove to the world that there is still some fight left in him. Admittedly, he still has huge power which is a threat to anyone. His biggest problem, perhaps with age, is his staying power. After the first few rounds he begins to slow down, an opening that Saul "Canelo" Alvarez is sure to exploit. These two boxers meet in the middle somewhere – same build, same fighting style, same hunger. It's Young lion Vs old lion. It is an undercard that is arguably more interesting than the main event. "Ring Kings: Mayweather vs. Cotto," a 12-round fight for Cotto's WBA Super Welterweight World Championship and the vacant WBC Super Welterweight Diamond belt, is promoted by Mayweather Promotions, Golden Boy Promotions and Miguel Cotto Promotions. Also featured will be Canelo Alvarez vs. Sugar Shane Mosley, a 12-round fight for Canelo's WBC Super Welterweight World Championship which is presented in association with Canelo Promotions and Sugar Shane Mosley Promotions and a 10-round welterweight fight featuring undefeated rising star Jessie Vargas and former World Champion Steve Forbes. Opening the pay-per-view broadcast will be a 10-round bout between super welterweight contender DeAndre Latimore and former World Champion Carlos Quintana which is presented in association with DiBella Entertainment. The mega event is sponsored by Corona, Hatfields & McCoys on HISTORY™, DeWalt Tools, AT&T, O'Reilly Auto Parts and Puebla - Cinco De Mayo and will take place Saturday, May 5 at the MGM Grand Garden Arena in Las Vegas and will be produced and distributed live by HBO Pay-Per-View® beginning at 9:00 p.m. ET/6:00 p.m. PT.